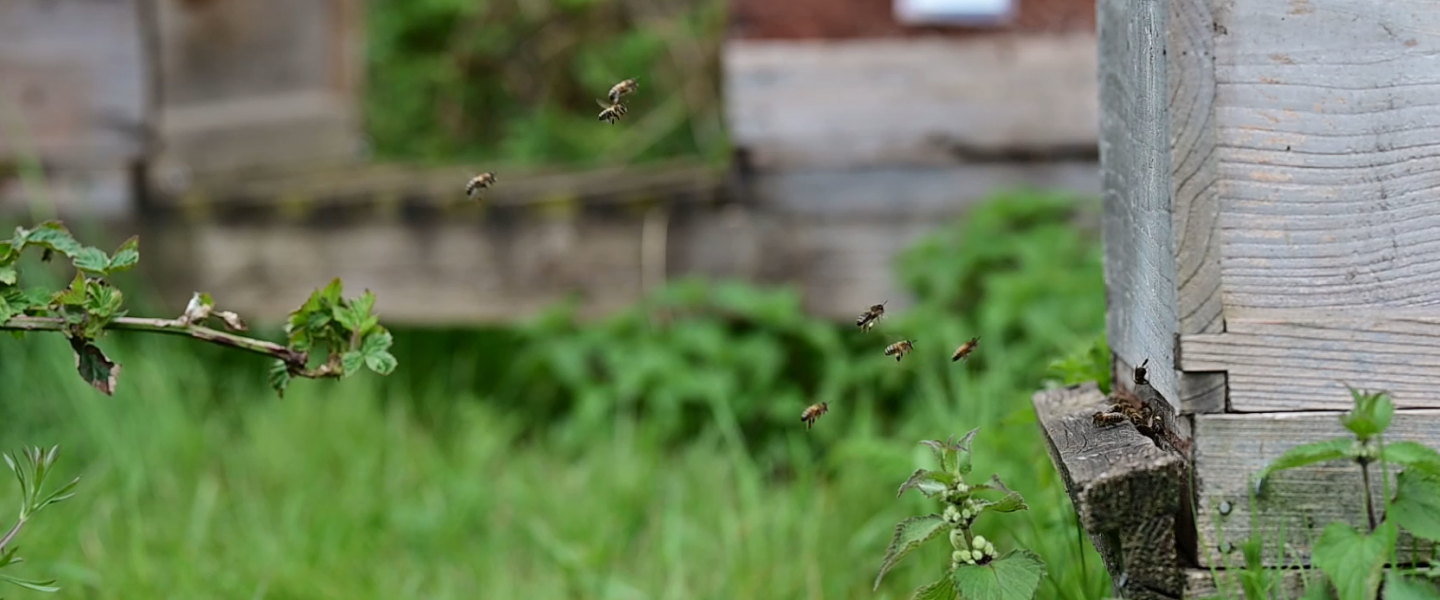 At Earthworks, we support people with learning disabilities, alongside volunteers, to manage 3.5 acres of beautiful eco-gardens in St Albans, through the practice of social and therapeutic horticulture.

We grow fruit and vegetables using organic methods and build wildlife habitats using traditional techniques. Over the years, we have transformed waste land into beautiful eco-garden; maintaining a focus on sustainability in everything we do.

Our pilot project, Earthworks on Wheels, empowers Earthworkers to help the wider community by using the skills they have learned at Earthworks to care for gardens belonging to vulnerable people.
Extensive consultation with service users, carers and social services revealed land-based activity to be the most popular creative occupation. After five years' preparation and consultation, we leased a two-acre site of waste ground in Hixberry Lane, St Albans from the District Council.

Since 1995, our Earthworkers, supported by staff and volunteers, have transformed waste land into 3.5 acres of beautiful and flourishing eco-gardens including habitat, production and sensory spaces as well as a purpose built eco-building. Supported by volunteers, local schools and community groups, we are people of all abilities learning and working together. We are involved in a number of projects both onsite and in the community.
1995
Earthworks established, for people of all abilities to learn and work together
1996
We plant our woodland and heritage orchard
1998
We establish our propagation area and wildflower meadow
1999
Our stall on St Albans Farmers' Market begins
2000
We install a wind turbine and solar PV panel. We construct the Millennium Maze in Highfield Park.
2001
We erect a new metal site building to replace a wooden building destroyed by fire.
2002
Market Garden project begins with the renovation of our polytunnel.
2003
Charcoal burning and willow workshops begin. We receive a Green Pennant award.
2004
We build a straw bale/cob building onsite, and erect a wildlife totem pole at the Millennium Maze in Highfield Park.
2006
Earthworks receives the Queen's Award for Voluntary Service.
2012
We build our woodworking workshop
2014
We complete our oak-framed eco-building and name it 'The Warren' in memory Lynette Warren, our long-standing trustee
2015
We hold our first Christmas fair
2016
Earthworkers begin growing in their own 1m-square plots.
2018
Earthworks on Wheels wins funding from The Funding Network to begin a rolling pilot
2019
We design and build our beautiful sensory garden
2020
During lockdown, we support our Earthworkers remotely with our successful Stay at Home & Grow project