Empowering people to connect with the natural world, each other and the wider community through social and therapeutic horticulture and nature-based activities
At Earthworks, we support people with learning disabilities, alongside volunteers, to manage 3.5 acres of beautiful eco-gardens in St Albans, through the practice of social and therapeutic horticulture.
We grow fruit and vegetables using organic methods and build wildlife habitats using traditional techniques. Over 27 years, we have transformed waste land into beautiful eco-garden; maintaining a focus on sustainability in everything we do.
Our pilot project, Earthworks on Wheels, empowers Earthworkers to help the wider community by using the skills they have learned at Earthworks to care for gardens belonging to vulnerable people.
We offer purposeful activities and an education in horticulture, including projects such as our Gardening for Health and Growing Together, alongside onsite workshops for children and young people with learning disabilities, and our summer scheme for young adults.

We engage with our local community through our monthly stall at the St Albans' Farmers Market, where we sell our produce we have grown in our garden and allotments. At our seasonal events and workshops, we champion social inclusion, protection of the environment, and sustainable living.
What is social and therapeutic horticulture?
Social and therapeutic horticulture is a recognised, evidence-based practice that combines three key elements: nature, social interaction and meaningful activity. Together, they have many benefits, including: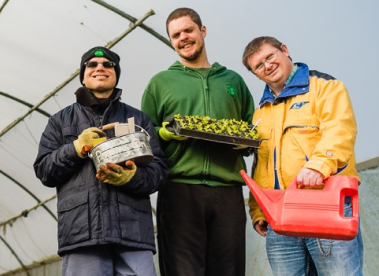 Part of a group
Social contact
Inclusion
Sense of belonging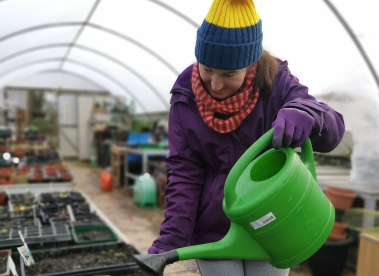 New skills
Sense of achievement
Responsibility
Confidence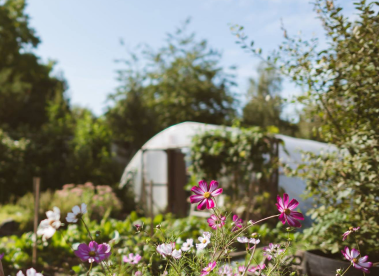 Sense of calm and safety
Reduced stress
Psychological
restoration
Capacity for focus
By engaging with our wider community, we champion social inclusion, protection of the environment, and sustainability.
Skilled staff support Earthworkers to experience:
increased horticulture/life skills
sense of purpose
responsibility
confidence and achievement
social contact
inclusion and belonging
citizenship
reduced stress
boosted physical and mental wellbeing